We've enhanced our Personal Line of Credit and made each step of the way easier for you.
What is a Personal Line of Credit (PLOC)? 
A personal line of credit is a set amount of money from which you can borrow (up to the approved limit) for a given period of time, referred to as your draw period. You are able to draw from the available balance for the amount you need and pay interest on the outstanding balance monthly.
When you paydown the balance, your line of credit becomes available to use again.
Once you are approved for a PLOC, you may choose to draw part or all of the funds at closing.  
What was enhanced?
We've made changes to offer more options in accessing your PLOC by utilizing digital technology in all aspects of the product.
You can now apply online
Quick Decision
Fixed Rate  
PLOC amount as low as $2,500 and up to $10,000 
Flexible repayment terms
Funds can be electronically deposited directly to your bank account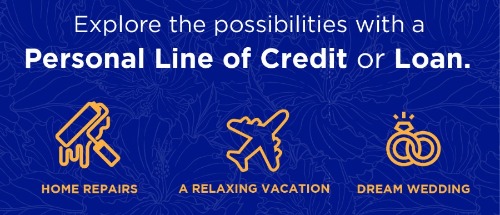 Are there any fees for a PLOC?
A processing fee of $50 will apply at the time of closing.
An annual fee of $50 also applies every year thereafter.


To access funds from your PLOC, click on the button below to download the form.

DOwnload now

 Submit by email to plocloans@pfcguam.com or drop off the form to one of our centers. 
Some restrictions and fees apply. 
Contact our Call Center at (671) 647-6820 and ask to speak with a loan officer.